Publishing Tab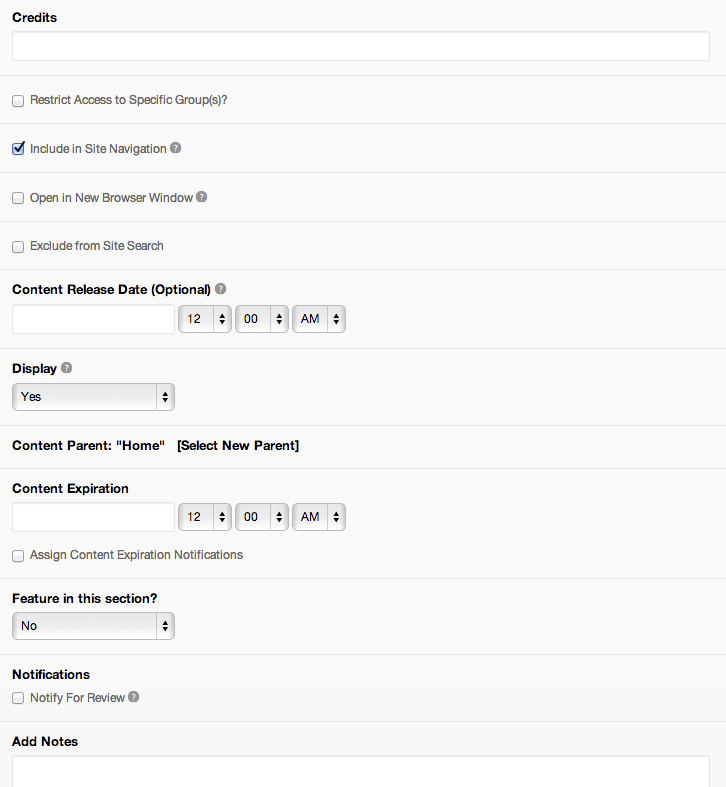 The Publishing tab contains a number of important publishing options as described in the list below.
Credits: This is similar to a "By Line" where you can add author(s) name(s). This information may appear on Folders.
Restrict Access to Specific Group(s)? You can choose to lock down the content to one or more groups which would require users to log in to view the content.

NOTE: Summary information will appear on the page above the login screen when content has been restricted.
Include in Site Navigation: There are many instances where you may not want to include content in the navigation on the site, but yet still be accessible via a URL or direct link within content. Checked means that the content will display in the navigation, unchecked means it will not. This feature can also be edited directly in the Site Manager.
Open in New Browser Window: Check this box to open the page in a new browser window. Additional options are displayed for the size, location, and display of the new window.
Exclude from Site Search: If for any reason, you wish to exclude content from the built-in Mura CMS site search, you can simply check this box, then Publish the page. Once done, the content will no longer be included in search results.
Content Release Date: The Content Release Date is an optional field. This field assigns a specific release date to the page. If edited or updated at a later time, the release date will remain static. This is useful for organizing content and can be used as a filter in content indexes. The release date will not affect the whether or not your page is displayed.
Display: Choose "yes" if you want this to be available for viewing. Choose "Per Start/Stop Dates" to schedule when your content appears and is removed from the site. Choose "no" if you do not want visitors to view it. If you choose "no" the content will only be viewable through the Mura interface.
Content Parent: This field allows you to search and select a parent content item for the current page being edited or created. If you already created this page under another content item, it will be displayed here.
Content Expiration: The Content Expiration Date lets you know when a content item needs to be reviewed and/or updated.
Assign Content Expiration Notifications: Reminders can be assigned to any member of your Mura CMS Admin team.
Feature in this section? Featuring content flags a content item so that it may be featured on other pages or local content indexes. Content may also be featured during specific dates using the same procedure as in the Display options.
Notify For Review: Checking Notify for Review to notify other Mura users of the changes you've made to content. Select the users you want to notify in the list that appears. You can also send a personalized message, which will be sent via email.
Add Notes: You can also add notes to the page by clicking the associated Expand link. A text area will appear where you may add notes. These notes will not be visible by users.
Display Options
The Display feature in Mura CMS allows you to control whether or not a specific content item is on display. In addition, you can select some basic "recurrence" options. To manage the display attribute, follow these steps:
On the Publishing tab, select Yes, No or by Per Start / Stop Dates in the Display field.
If Yes is selected, the content will be displayed on the web site.
If No is selected , the content will not be displayed on the web site and the content item will not appear in navigation. If a visitor to your site stumbles across the content, they will see a "Content Off-Line" message.
Select Per Stop / Start Dates to enter a Start Date / Time and End Date / Time for the content to display.


The Display Interval controls the recurrence of the display. Multiple choices are available in the select list.